One thing that I believe every pet owner hates to admit, but has to face, is the 'aging' of their pet.
As they sleep more and more, they gradually become less active. The walk becomes noticeably slower and even seems to waddle a bit. Once it was clingy, now it becomes increasingly clingy …
All of these are indications that it may have begun to age.
Although many pet dogs and cats are now well cared for, many fur babies may still look very energetic in their teens.
But the truth is that cats begin to reach middle age at age 7, small dogs at age 8, and large dogs at age 6.
Because of this, there are 5 things that every pet owner wants to maximize the life span of their beloved pet, and there are 5 things that owners must do right.
Weight Control 
For a long and healthy life, the first tip for senior pet care that must be mentioned is the 'weight' of dogs and cats.
Obesity has many harmful effects on dogs and cats, the most obvious being that excess weight can place a severe burden on joints and lead to inflammation, especially in medium to large dogs, which can affect their overall health if their joints are damaged and they are unable to stand.
In addition to joint stress, obesity can lead to internal diseases such as heart and pancreas, high blood pressure, diabetes, and pancreatitis, all of which obese dogs and cats are prone to.
Want to avoid these diseases? The first thing to do is to pay attention to 'weight control' and never let dogs and cats develop excessive obesity.
It is better not to be obese than to gain weight and then lose it!
Dental Health 
Although dental health issues have become increasingly important for senior pet care, in general, teeth are still an area that pets owners tend to overlook compared to other diseases of the body.
However, oral health plays an extremely important role in the health of senior dogs and cats. Here is a comparison chart of the dental health of their fur kids, so pets owners can compare and see where their fur kids fall.
As shown in the chart above, mild calculus can lead to bad breath and gingivitis in your fur child; moderate calculus can lead to inflammation and recession of the gums; and severe calculus can lead to loosening and loss of teeth.
If a fur baby develops severe periodontal disease, it will be accompanied by severe pain, and in more severe cases, it will lead to oronasal fistula, facial fistula (the picture is too bloody, so I won't show it), and the jaw bone area may also form jaw bone dissolution, which can lead to fracture in serious cases.
The picture above shows the osteolysis of the root of the canine mandible.
The black shading around the teeth is the infected area of the mandibular bone after it has dissolved.
In addition to causing problems in the mouth itself, infections in the gum area can reach the entire body through the bloodstream and cause heart, liver and kidney disease in dogs and cats.
Therefore, pet owners must pay attention to the dental health of their hairy children. In addition to adding mouthwash to their daily drinking water and eating appropriate teething bars, the most important thing is to brush their teeth! After brushing, it is important to feed your fur baby in time.
Pet owners, please make sure you insist on brushing your fur baby's teeth to avoid unnecessary pain.
Vaccinations and Deworming 
Vaccinations and deworming are two of the most basic 'Health Care' items, each of which could be the subject of a separate article, so I won't go into them here.
In short, cats are usually vaccinated against feline distemper (feline microvirus), feline herpesvirus type 1, and feline calicivirus.
For dogs, there are more vaccines to choose from.
| | | | | | |
| --- | --- | --- | --- | --- | --- |
| Preventable diseases | Duplex vaccine | Quadruple vaccine | Quintuple vaccine | Hexa Vaccine | VIII Vaccine |
| Canine distemper | √ | √ | √ | √ | √ |
| Canine parvovirus infection | √ | √ | √ | √ | √ |
| Parainfluenza | | √ | √ | √ | √ |
| Adenovirus type 1 (canine infectious hepatitis virus) | | √ | √ | √ | √ |
| Adenovirus type 2 (canine infectious laryngotracheitis virus) | | | √ | √ | √ |
| Canine leptospirosis canine type | | | | √ | √ |
| Canine leptospirosis jaundice hemorrhagic type | | | | | √ |
| Canine coronavirus | | | | | √ |
The quadruple vaccine combines adenovirus type 1 and adenovirus type 2 as canine adenovirus disease, which is considered as one dose, and the same for the six doses.
As to which specific vaccine is needed for a dog, it depends on the dog's age, living environment, etc. Pet owners are advised to consult their veterinarian before vaccination.
As for why deworming is important, the reason is that if a dog or cat is externally infected with fleas, it can lead to itching, dermatitis, hair loss, and in severe cases, anemia.
If it is an infected tick, although the symptoms are not obvious in infected dogs and cats, there will be inflammatory nodules in the area touched by the tick and the possibility of being infected with tick-borne diseases, such as sepsis and Lyme disease.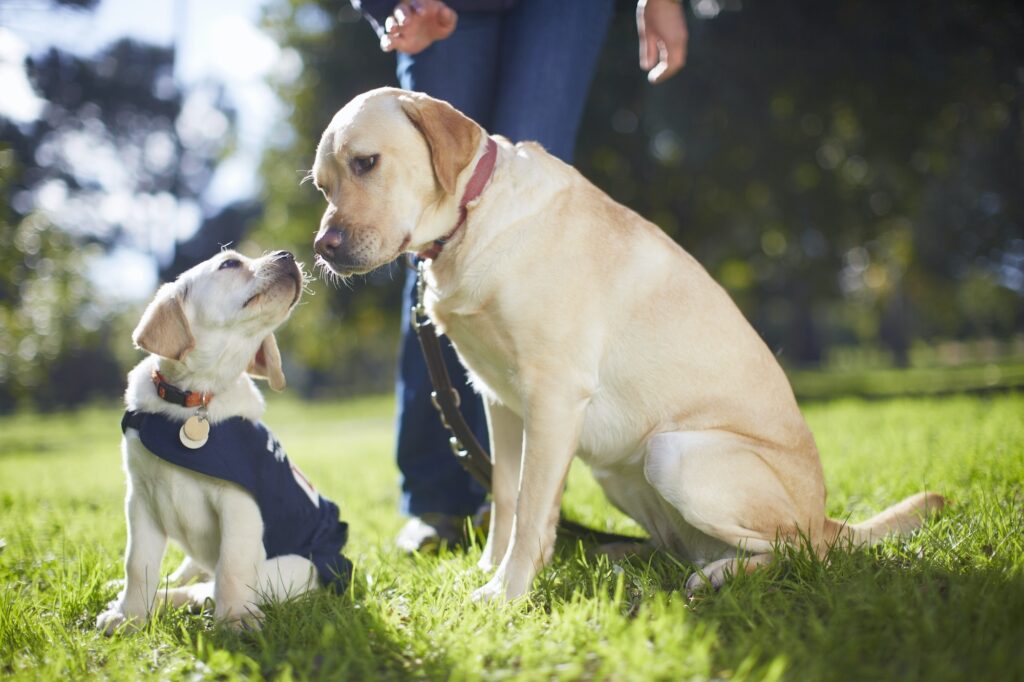 If it's an internal parasite … Sounds scary, doesn't it?
For example, roundworms, hookworms, tapeworms, whipworms, heartworms, etc. Each of these parasites can lead to very serious consequences in later stages of development, causing the fur child to suffer.
Medical Checkups 
Physical exams are vital to senior pet care! Because dogs and cats are super-tolerant 'pain masters', often by the time they show visible symptoms, their condition has progressed to a very serious level.
Especially for middle-aged and older dogs and cats, a physical exam can nip many diseases in the bud.
If the pet is new, it should also go to the vet at the first opportunity for a full body examination, such as canine/feline distemper and other infectious disease testing, parasite testing, antibody testing, etc.
If abnormalities are found, firstly, the kennel can be contacted at the first time to avoid disputes, and secondly, early detection and treatment may have a chance to save the life of the dog or cat.
So in order to prolong the life of dogs and cats, the medical examination must be carried out in a timely manner!
Abnormal Behavior 
The phrase 'early detection, early treatment and early recovery' is common in human and pets.
In addition to physical examinations, pet owners should also pay attention to abnormal behaviors in dogs and cats, which is a very important step for early detection of potential diseases.
Many diseases can be recovered if pet owners detect abnormal behavior in dogs and cats in a timely manner to minimize their suffering time, and many diseases, such as pancreatitis, can be recovered with early intervention and treatment.
What kind of behavior is considered abnormal?
A sudden increase in water intake, or a sudden increase in food consumption, a preference for hiding in corners, or even the 'head tilting' action that humans find so cute, can all be precursors to some diseases.
As for how pet owners can detect it in time?
Observe their behavior.
One of the easiest ways to spot abnormal behavior in your pet is to pay attention to their behavior. If your pet is behaving abnormally, this may be a sign that something is wrong. Keep an eye out for changes in eating, sleeping and playing habits.
Look for physical symptoms.
Sometimes, when things are not right, pets will show physical symptoms. For example, if your pet is limping, this could be a sign of a sprain or injury. If your pet is scratching more than usual, this could be a sign of fleas or an allergic reaction.
Keep track of their habits.
Your pet's routine is important, and any change in their routine could be a sign that something is wrong. If your pet is sleeping more or eating less than usual, this could be a sign of a potential health problem for senior pet care.
Take them in for regular checkups.
Regular checkups with your veterinarian can help catch any health problems early. It is very important to take your pet to the vet for routine checkups, vaccinations and preventive care.
Trust your instincts.
As a pet owner, you know your pet's behavior better than anyone else. If you feel something is wrong, don't hesitate to take your pet to the vet. It's always better to be safe than sorry.
Remember, the sooner you catch any abnormalities in your pet's behavior, the better your chances of successful treatment. So, stay observant and alert, and don't hesitate to seek professional help if necessary.
In conclusion, senior pet care is essential for ensuring that our beloved dogs and cats enjoy a long, healthy, and happy life. By following the tips provided in this article, you can help your furry companions avoid obesity, maintain proper weight, and reduce the risk of various health issues.
Additionally, it is crucial to remember that our pets' lives are finite, and pet loss is an inevitable part of the journey. Preparing ourselves emotionally and having a support system in place can make the grieving process more manageable when the time comes.
Ultimately, providing the best care for our senior pets not only enriches their lives but also strengthens the bond we share with them, making the time spent together all the more precious.