Main Introduction
Discover our meticulously crafted needle felted animals, each piece painstakingly handmade with thousands of stitches to capture the essence of your beloved pet. These one-of-a-kind, healing art pieces reflect the heart and soul of the artist, making them truly rare treasures and perfect personalized pet memorial gifts, or pet loss gifts.
Key Features:
1, Our wool felt products are designed to last, but as with any natural material, some shedding may occur over time. Simply use scissors to trim any loose fibers gently. To preserve their beauty, handle them with care and avoid contact with sharp or hard objects.
2, As each needle felted animal is entirely handmade, there might be slight differences in details and size from the reference photos. Rest assured that your art piece will be a unique representation of your beloved pet.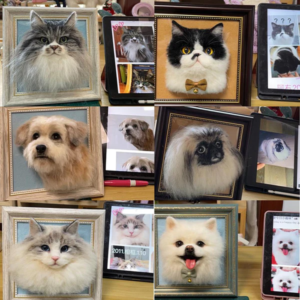 3, Due to the labor-intensive nature of our pet memorial gifts, we kindly request no bargaining. Each piece is a testament to the time, effort, and dedication invested by our skilled artisans.
4,We do not accept refunds during the production process of our personalized pet owner gifts. Your satisfaction is our priority, and we strive to create a timeless piece that meets your expectations.
5, Should you be unsatisfied with the final pet loss gift, we offer two free modifications to ensure your complete satisfaction.Please appreciate the priceless nature of handmade art and the labor involved. Our style is uniquely ours, and we do not replicate other craftsmen's work.
6, Our needle felted animals are true to life, but factors such as lighting and monitor resolution may cause slight differences between the image and the actual product.To achieve the most accurate representation, please provide photos taken in normal lighting conditions or specify the desired color.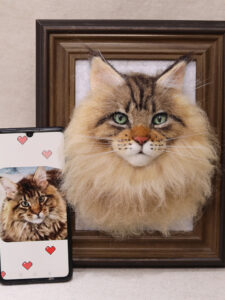 7, Production times may vary due to the intricate nature of our needle felted animals. We appreciate your understanding and patience.
8, We extend our heartfelt gratitude to every customer who supports and respects the art of handmade craftsmanship. Your patronage makes it possible for us to continue sharing our passion for these exceptional personalized pet memorial gifts.