Main Introduction
Our custom 3D crystal photo is the perfect way to cherish the memories of your beloved pet, providing a heartfelt and unique pet memorial gift that lasts a lifetime. This personalized gift is expertly crafted and designed to capture your pet's image in a stunning, lifelike manner, ensuring that their memory remains close to your heart.
The process of creating this one-of-a-kind pet loss gift begins with your favorite photo of your pet. Our skilled artisans use state-of-the-art laser engraving technology to transform your image into a breathtaking 3D crystal photo that showcases your pet's features with incredible detail and depth. This exquisite keepsake is a touching tribute to the special bond you shared with your furry friend and serves as a constant reminder of the love you shared.
To further enhance the beauty of your personalized 3D crystal photo, we offer an optional LED light base that illuminates it from below, creating a mesmerizing display of light and color. This eye-catching feature adds an extra layer of elegance to this meaningful keepsake, making it a striking centerpiece in any room.
As a pet memorial gift, our 3D crystal photo is the ideal way to help friends or family members cope with the loss of their cherished companion. It offers a tangible, lasting memento that serves as a visual reminder of the happiness and love their pet brought into their lives.
Key Features:
1, A personalized 3D crystal photo designed to capture your pet's image in stunning detail.
2, State-of-the-art laser engraving technology that creates a lifelike, three-dimensional representation of your pet.
3, An optional LED light base to enhance and illuminate the 3D photo crystal, creating a captivating display of light and color.
4, High-quality,K9 crystal, high permeability, high purity, rounded rectangle
5, Carefully engraved with your pet's name and pet loss quote, let the love last forever
6, Solid wood base: rechargeable, easy to use.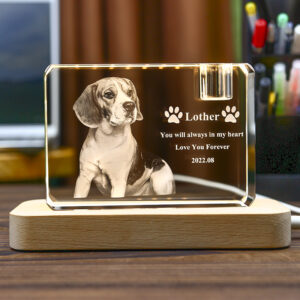 7, Pre-punched hole can be stored in the pet's hair or ashes
8, Base can be luminous: create a warm atmosphere
9,  Dimension:  Crystal size: 130*90*40mm, Base size: 170*80*20mm
A thoughtful pet memorial gift for friends or family who have lost a beloved pet, providing a lasting tribute to their cherished companion.
Our custom 3D crystal photo is the ultimate pet memorial gift for those who have experienced the loss of a beloved pet. With its intricate laser engraving, optional LED light base, and personalized touch, this meaningful keepsake is sure to bring comfort and solace to those who are grieving. Order today and celebrate the life and memory of your cherished pet with a beautiful and lasting tribute.